Blue Orange Dubai
Blue Orange Dubai
Breakfast - Monday to Thursday

7AM - 10.30AM

Breakfast - Friday to Sunday

7AM - 11AM

Lunch - Saturday to Thursday

12.30PM - 3PM

Dinner - Sunday to Wednesday

6PM - 10.30PM

Dinner - Thursday to Saturday

6PM - 11PM
Blue Orange
Situated in the heart of the Westin Mina Seyahi, Blue Orange offers exceptional dining with a wealth of international flavours to indulge in. Guests can sample tastes from around the world at more than 10 live cooking stations, including exquisite salads, seafood, sushi, roasts, tagines, grilled meat and fish, pasta, three rooms dedicated to magnificent desserts, and more!

Dedicated to Westin's 'Eat Well' pillar, signature food stations include Westin's own juice bar, a tropical fruit station, healthy breakfast snacks such as chia seed pudding, overnight oats and a recent addition of soya, hazelnut, oat and almond milk as well as an all gluten-free Breakfast station.

Blue Orange serves Breakfast, Lunch and Dinner and hosts a seafood-themed night named 'Pisces Kitchen' every Thursday evening as well as the city's enormously popular 'Bubbalicious Brunch' every Friday afternoon.

Bubbalicious Brunch at Blue Orange was awarded 'Favourite Brunch' in 2015 and 2016 by BBC Good Food and What's On Dubai and offers brunch across three restaurants; Hunter's Room and Grill, Blue Orange and Spice Emporium.

Also famed for its award-winning entertainment, guests can dine fabulously amongst live acrobats and performers, and even visit the nurse's clinic for a little liquid medicine!
Breakfast Buffet: AED135/adult | AED70/child (6-12 years old)
Lunch Buffet: AED175/adult | AED85/child (6-12 years old)

Dinner Buffet: AED210/adult | AED100/child (6-12 years old)
Discover more restaurants & bars at The Westin Dubai Mina Seyahi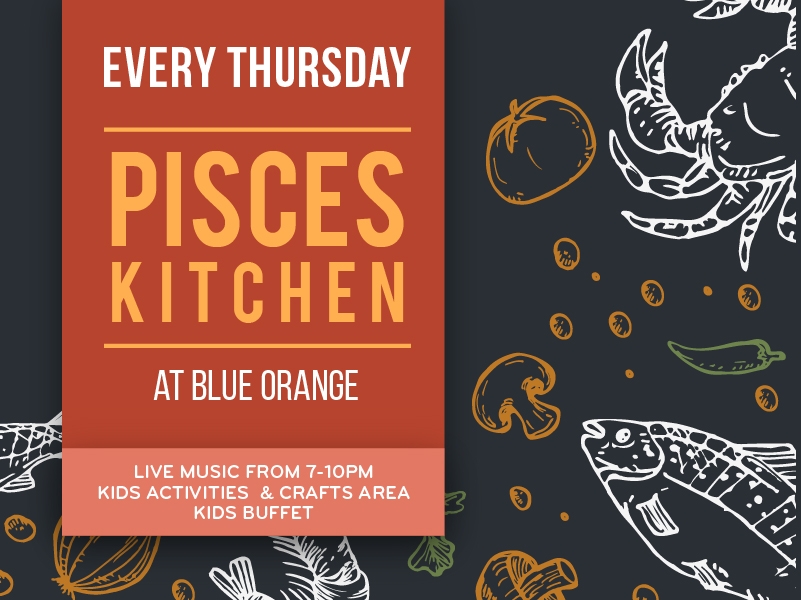 Every Thursday | 6PM - 11PM
Every Thursday, join us for Pisces Kitchen - Blue Orange seafood night. Join us and indulge in the freshest lobster and a variety of seafood from oysters to sushi and sashimi. All cooked to perfection in front of you by our experts Chefs. Learn More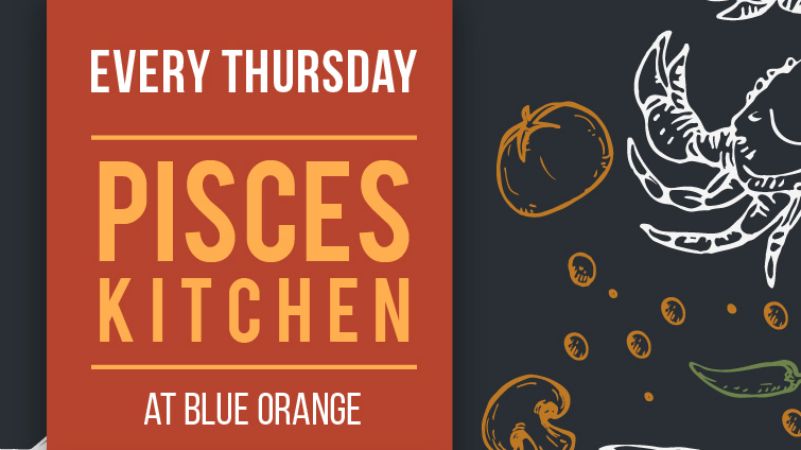 Pisces Kitchen
Every Thursday, join us for Pisces Kitchen - Blue Orange seafood night.

Indulge in our fresh seafood market, where lobster, line fish, shellfish, oysters, sushi, sashimi and much more are all freshly prepared by our expert Chefs.

AED 249 – Non Alcoholic Package
AED 349 – Alcoholic Package (inclusive of house beverages and sparkling wine)
free – Kids 16 and below

Kids activities & crafts area | Kids buffet
Book Now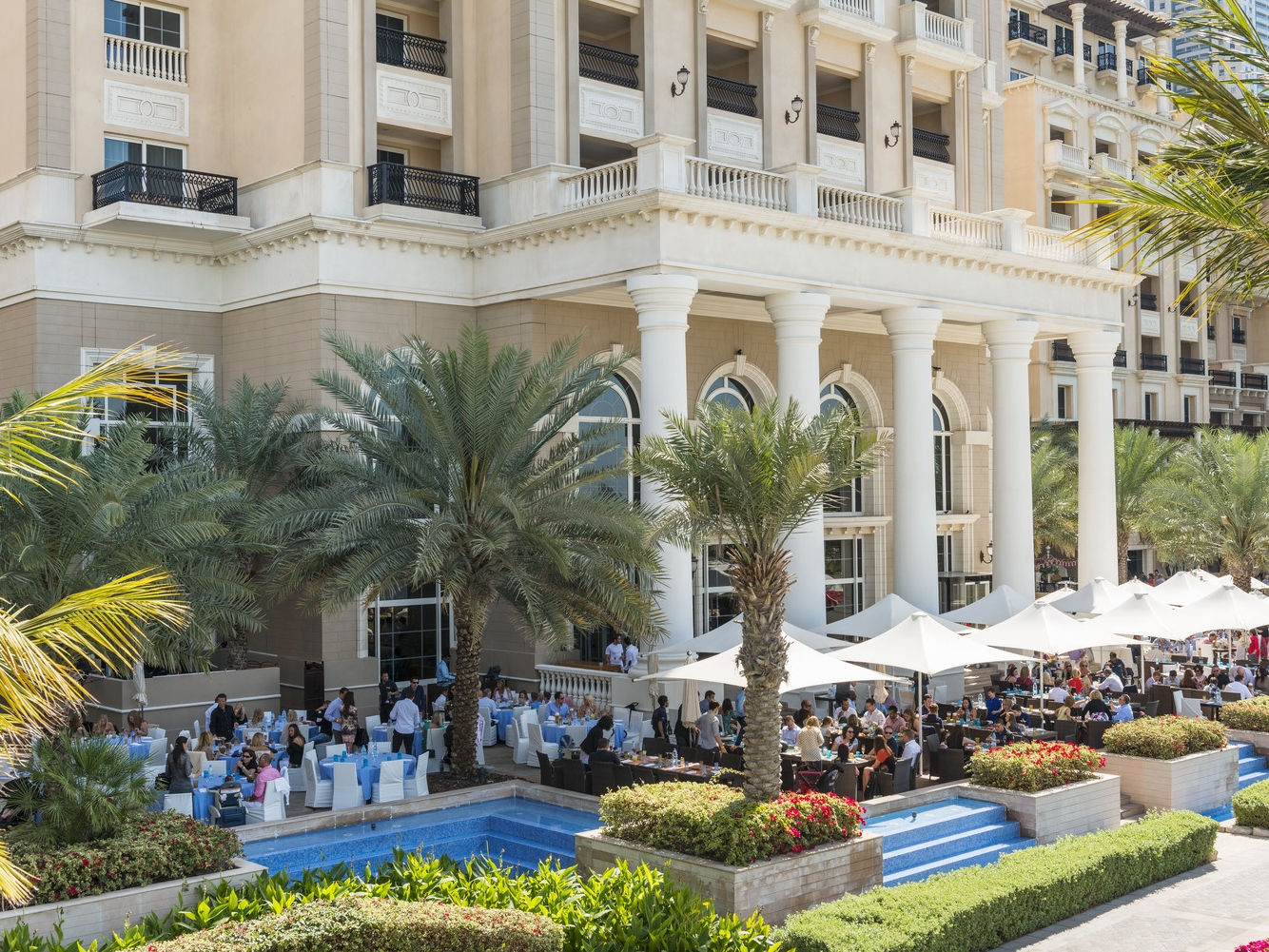 Every Friday | 1PM - 4PM
Bubbalicious is the exciting Friday brunch at The Westin Dubai, and offers more than 10 live cooking stations in three of Dubai's hottest restaurants. Learn More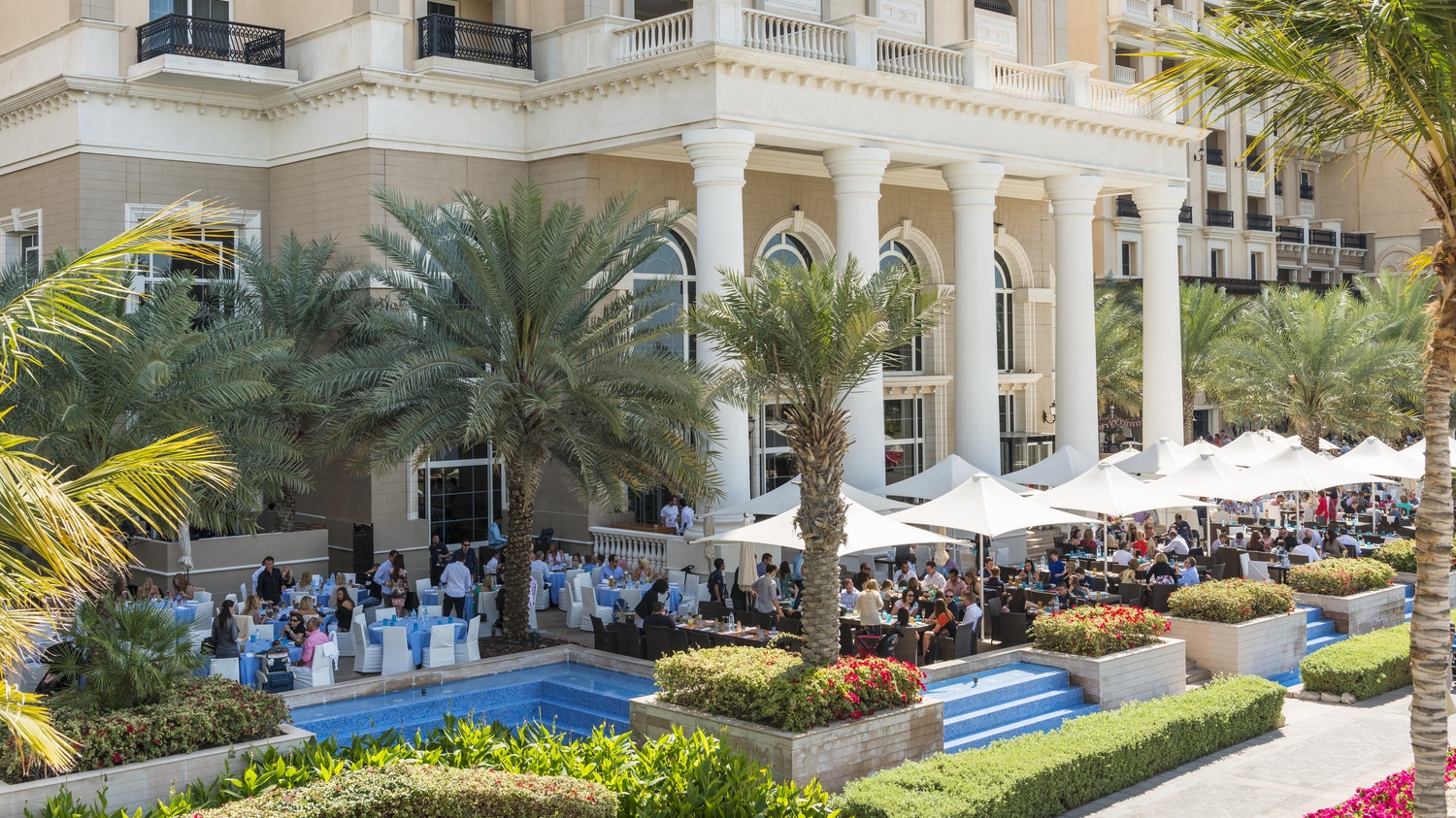 Bubbalicious Brunch
Bubbalicious is the exciting Friday brunch at The Westin Dubai, and offers more than 10 live cooking stations in three of Dubai's hottest restaurants.

Bubbalicious caters to young and old, families, couples and groups alike, guests will be able to move freely through each of The Westin's fabulous eateries of Blue Orange, Hunters and Spice Emporium, seeing their delicious meals prepared by the chefs as they enjoy the amazing entertainment happening all around them.

BUBBALICIOUS BRUNCH
Our original & sumptuous versions of Brunch:

Bubbalicious spread with free flow Bubbly at AED 620 Bubbalicious spread with free flow Sparkling is AED 520
Bubbalicious spread with non-alcoholic drinks is 420

*SPG discount not valid on Bubbalicious packages
Book Now
*SPG discount not valid on Bubbalicious packages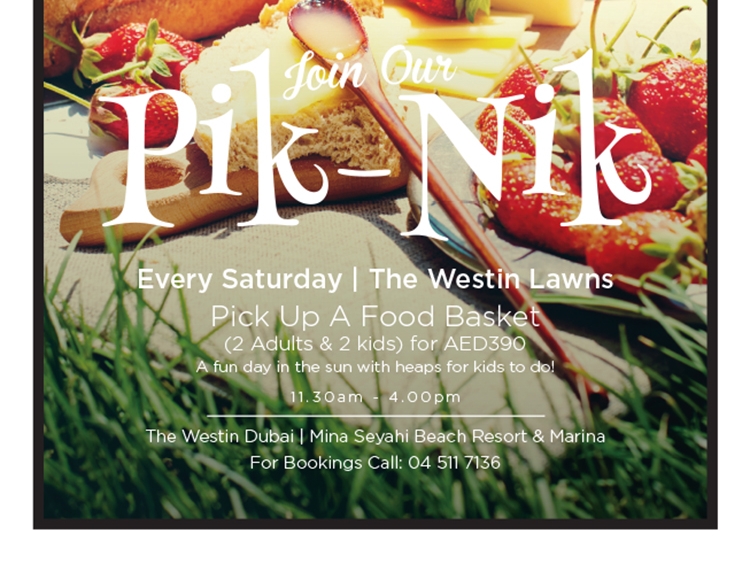 Every Saturday - 11:30AM - 4:00PM
Join our Pik-Nik every Saturday on The Westin lawns! Learn More
Breakfast - Monday to Thursday 7AM - 10.30AM
Breakfast - Friday to Sunday 7AM - 11AM
Lunch - Saturday to Thursday 12.30PM - 3PM
Dinner - Sunday to Wednesday 6PM - 10.30PM
Dinner - Thursday to Saturday 6PM - 11PM